By AL
Schijnrealisme translates to which might also be translated as the 'semblance' or 'mere appearance of realism'. According to historian Eddy de Jongh, a reputable art historian that studied specifically Dutch art during the golden age, schijnrealisme "refers to representations which, although they imitate reality in terms of form, simultaneously convey a realized abstraction" (Jongh, 1971, p. 21). Using this definition of realism, at first, the painting looks very real. However, once you look closer and start to analyze the painting, the artist takes liberty in adding certain things that may "look real" in order to communicate abstract ideas or to romanticize so that the person looking at the painting can understand these ideas at a symbolic level. In this paper, I will further analyze what makes a painting count as realism or this idea of "almost realism", looking at the techniques that were used through the Dutch Golden Age landscape paintings: "View of Delft" by Vermeer and Jan Van der Heyden 's View Down a Dutch Canal.
History of Landscape Paintings and techniques of Realism
It is important to understand the background of how landscapes played a role in the 17th century. The factors that gave rise to secular subjects in art, such as landscape, seascape, still life, and genre painting, the most fundamental was the urbanization of European society during the 1500s and 1600s (Brown). This was most remarkable in the province of Holland, where such critical Dutch cities as Amsterdam, Haarlem, Leiden, The Hague, Rotterdam, and Dordrecht are located (the major exception is Utrecht, in the province of that name), and whereas much as 70 percent of the population lived in cities and towns rather than on the land (Shawe-Taylor,Scott). Patrons from the mercantile and professional classes developed an interest in works of art that reflected their everyday lives and values ( Therefore, Genre pictures were concerned with contemporary society and human nature, and domestic life and collectibles (including flowers). Contrarily, seascapes were involved with foreign travel, the sea itself, the grandeur of view, and so on (Westermann).
Cityscapes were quite common in dutch art. As urbanization was occurring in the Netherlands, there suddenly was a greater appreciation for landscape art. Top masters like Vermeer tapped into this genre of art and painted beautiful landscapes and there are quite a few that really come to mind (Paul, T., Clifton,Wheelock). Given the history of landscape paintings, artists like Van Der Heyden changed the norm of Dutch art and ended up paving the way for modern artists to use nature as their primary subject. Not only were the subjects portrayed in landscapes different, but also the techniques these painters used are still used today (Stechow).
In landscape pieces, technique was a huge indicator of whether or not the painter was good or not. Painters referred to Karel van Mander Het Schilderboeck published in 1604. This book was a "bible of landscape techniques" that every painter looked at in the beginning of their career. The book contains basic principles of art. For example, it mentions the didactic verse "Den Grondt der Edel Vry Schilder-const" which means "first seek a good master." (Van Mander). As far as landscape paintings, it advised that painters wake up in the morning, leaving the city with a notebook while observing, closely, what truly makes up the world. Van Mander recommends to look closely at the composition of nature and its color effects and to paint in different weather conditions (Wheelock).
Additionally, the unmatched rendering of materials and the intimate light effects of some landscape paintings remind us so much of photographic realism that it comes as a surprise to discover that some cityscapes sprang entirely from the painter's imagination. Most landscape paintings were produced in the studio, which is interesting because usually one would think that they were looking at their subject matter while painting the painting (Van Mander).
After mastering the art of nature, many landscape painters would go back to their own studio to paint the landscape from their own imagination. Painters would paint nature with optical illusions rather than the original picture to make the painting more realistic. This practice was known as the Capricio and it was quite common for landscape paintings (Wheelock). However, prior to the use of this technique, artists would usually create their artwork on location.
The almost realist reproduction of landscapes was a new idea that came into place. An example of this would be Jacob Van Ruisdael's Views of Haarlem with Bleach Grounds is an excellent depiction of the most realistic depiction. Depictions of skies with painted clouds were authentic. There is a flat line of the horizon of the city. The sullen clouds are depicted dramatically, and the skies are gray. There are aloof.
In addition, painting equipment has changed very little since the 17th century. Canvases were often stretched and laced inside a larger wood frame in order to make more room on the canvas. Flat wooden pallets for holding and mixing the oil paints and a wooden hole for the painter to hold is surprisingly modern. Painters were to have clear surroundings in their studios in order for them to organize their own thoughts.
Examples of "almost realism"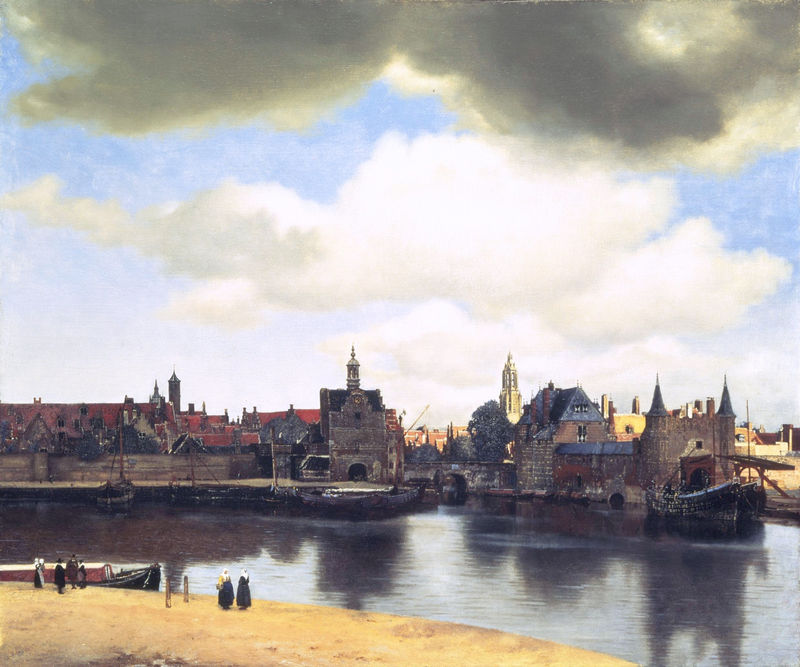 An example of a landscape masterpiece is Vermeer's magnificent townscape of Delft seen from the south.The picture divides into four horizontal bands: the dock, the water, the town and the sky. On the left side of the dock are a mother and baby, and two fashionably dressed men and women talking together, and further towards the center are two more women. The water represents a section of the River Schie which eventually flows into the Rhine at Schiedam, near Rotterdam.
The area of river depicted by Vermeer had been widened in 1614 to form a triangular pool which served as the harbor for Delft. The view is from an elevated position, looking down onto the waterfront, and Vermeer suggesting that Vermeer may have painted the town from the upper floor of a house or an elevated surface.
According to Scholar Brusati, artists like Vermeer "treat the camera obscura not as a technical aid to be used in the making of pictures or their perspective construction, but rather as an experimental device that allows painters to learn by observation how light produces images in nature and in the eye, and to model their own painting on these optical images" (Brusati 918). In the painting, Vermeer uses this technique Brusati discusses to suggest reflections flickering off the water, most easily visible on the two herring boats on the right. The almost realistic reproduction of landscapes was a new idea that came into place.
Another well notable cityscape painted by a top landscape painter Jan Van der Heyden is View Down a Dutch Canal. Van der Heyden painted a picturesque scene of a dutch canal in the 17th century. This landscape painting is more focused on the naturalistic part of the city. The skies are somewhat clear with the clouds. There is a row of trees. The Church "The Veere" is hidden behind the beautiful trees. The beautiful serene location of the masterwork reveals the idea that cities are calming and beautiful to look at. Van der Heyden uses the technique of "almost realism" to create a perfect image for viewers to see. By creating this image, it adds a level of romanticism to the picture in which the viewer feels calm and encourages the viewer to dream and reveals how this makes Dutch Feel.By creating this image, it adds a level of romanticism to the picture in which the viewer feels calm and encourages the viewer to dream and reveals how this makes Dutch Feel. In this painting, Heyden also uses this style called the experiential praxis.  According to Brusati, "Experimental praxis pivoted on the instrumental role of artificially contrived experiences in the production of knowledge and aesthetic pleasure, giving special value to technical inventions that vexed nature to make perceivable what might otherwise remain concealed to the senses" (Brusati p912). Van der Heyden does by using a multifocal field view in order to alter what the view can see or imagine. This is shown so viewers analyze the painting in unexpected ways and feel the romance of the beauty of the dutch canal. (Brusati). 
Analysis & Conclusion: Almost Realism
Almost realism gives the artists their own liberty or take as it adds their own uniqueness to the painting. This is what separates artists like Van der Heyden and Vermeer from other (not so famous) artists. Due to the popularity of these paintings, it reveals Dutch culture as well. Based on how well perceived these paintings are, we as people can infer that Dutch people like this illusion that artists like Vermeer create. While natives of Amsterdam and Delft looking at the two paintings can see the discrepancies while they are walking around in these paintings it also gives them another perspective on their town. It helps us with our feelings on the cities and goes into more than how the city looks in real life. Almost realism also brings in other elements of culture that cannot be seen just by looking at the "view" in life. These artists bring in other ideas that they think represent the city adding a story to the painting which makes them stand out than other paintings that are just showing the view which I think is beautiful.
Sources
Brown, C. (1986). Dutch landscape. London: The National Gallery, pp.45-50
Brusati, C. "Perspectives in Flux: Viewing Dutch Pictures in Real Time," Art History 5 (2012): 909-933.
Jongh, E . Questions of Meaning: Theme and Motif in Dutch Seventeenth-Century Painting. Leiden: Primavera, 1971
Paul, T., Clifton, J. and Wheelock, A. (2012). Elegance and refinement. New York: Skira Rizzoli, pp.54-57.
Shawe-Taylor, D. and Scott, J. (2011). Dutch landscapes. London: Royal Collection Enterprises, pp.80-82.
Stechow, W. (1981). Dutch landscape painting of the seventeenth century. Oxford [Oxfordshire]: Phaidon, pp.45-58.
Waiboer, A., Wheelock, A., Ducos, B., Bakker, P., Buvelot, Q., Gifford, E., Glinsman, L., Wieseman, M., Sluijter, E. and Schavemaker, E. (n.d.). Vermeer and the masters of genre painting. Washington,DC: National Gallery of Art, pp.10-12.
Westermann, M. (2007). A worldly art. New Haven, CT: Yale University Press, pp.93-97.